SportsRacing WORLD CUP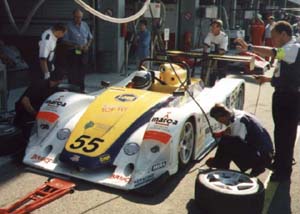 1997
1998
1999
2000
POINT TABLES
Drivers
Teams
REPORTS
Brno 1998
Nürburgring 1998
Brno 1999
Brno 2000
This championship was founded by John Montgoletsi and started International Sports Racing Series. It was the first international championship in Europe for sports prototypes after many years. The top prototype category is called SR1, the second category is SR2. Protagonists of ISRS in its first season were Ferrari and Courage in SR1 and Centenari with Debora in SR2. But the first ever ISRS race won TWR-Porsche in its only start.
Before season 1998 an interest in rinnung this championship increased and many new-built Ferraris and Riley & Scotts appeared. One of races was held in South African Kyalami where sportscar race returned after 10 years of absence. Grow of the ISRS continued in 1999 so FIA decided to give this championship World Cup statute.
For 1999 co-operation with USRRC was announced. Two races in USA and two in Europe should form new Trans-Atlantic Challenge but after USRRC cancelled some of their races, John Montgoletsi postponed the project for 2000 season in which strong partnership with new formed Grand-Am was made.